We're more glued to our screens than ever — almost 4 hours per day, by the most recent Nielsen study. And most of that time is spent on our mobile phones — texting, Tweeting, Instagramming, and watching funny dog videos on YouTube. And everyone from Bud Light and Kind Bars to Target and Bank of America is fighting for a small slice of the billion-hour consumer engagement prize.
Getting consumers' digital attention is a powerful thing. It can drive Bud Light market share, more Kind Bar purchases, higher Target brand loyalty, and lower support costs for Bank of America. And healthcare organizations — from clinics and pharmacies to manufacturers and payers — are all fighting for consumers' very same attention. It's a zero sum game.
How are healthcare organizations faring in the fight for digital consumer engagement? While provider systems and pharma brands aren't exactly trying to get Kind Bars to fly off the shelves, the power of digital patient engagement is undeniable.
Patients who regularly use their provider portal are happier and healthier.

Patients who enroll in digital patient experience programs for the medications they're taking see meaningful uplift in adherence and drug comprehension.

Patients who participate in digitally enhanced trials are more likely to stay on the trial protocol.
The siren song of digital patient engagement isn't just an empty promise —it's a meaningful endeavor with real world impact. The healthcare industry is not blind to this reality, however despite all the talk and effort, few will declare that they are innovating at the same level as the top consumer brands that are setting digital experience expectations.
A Decade Behind the Consumer Innovation Leaders
The healthcare industry has struggled to convince patients to engage with them the same way they interact with Bank of America or Amazon. In fact, the numbers would argue that the healthcare industry has mostly missed the first wave of mobile engagement. There are over 300,000 mobile health apps available on the App Store, but less than 4% get more than 1M downloads. Less than 25% of a hospital's patients have ever interacted with their health records online. Only 7% of hospital and pharmaceutical executives believe they have gone digital.
The numbers paint a bleak picture, but it's not for lack of trying. Healthcare providers, pharma brands, and insurers spend hundreds of millions of dollars a year convincing patients — through website banner ads, in-person campaigns, and call center drives, and old fashioned snail mail — to learn about their digital programs and enroll. Some digital teams peg the cost of these activities as high as $50 per patient.
If You Build It, They Won't Always Come
Turns out, healthcare organizations have massively overestimated the amount of effort that patients are willing to endure to engage them. They've created digital outposts — apps, portals, websites – that force patients to jump through difficult download hoops, navigate signup flows, and learn new interfaces that don't always cater to their needs. There's way too much friction.
The best built apps and portals with the most advanced care planning features don't matter if they can't get patients in the door. What good is a AI-powered symptom checker if only 1 in 10,000 patients uses it? And how useful is a digital intake if only 3% of patients successfully share their medical history? Unfortunately, if you build it, they won't always come.
Healthcare organizations would be well-served to double down on patient activation: the act of convincing patients to interact with them online. Once they have a high-performing, reliable way to onboard all of their patients onto a consistent, digital experience, they can then focus on prioritizing specific workflows and features. Until then, patient activation should be the primary (if not only) focus for digital teams.
Focus on Patient Activation
Healthcare companies have a number of ways to interact and engage with patients, ranging from old world techniques like sending an information pack in the mail to mobile messaging. While every approach works at some level, engagement rates are evolving rapidly and the industry must consider where consumers are spending the bulk of their digital time.
Analyzing how available activation approaches perform across 3 factors — open rate, personalized value to the patient, and patient effort required — and picking winning approaches can prevent digital teams from building the equivalent of digital ghost towns.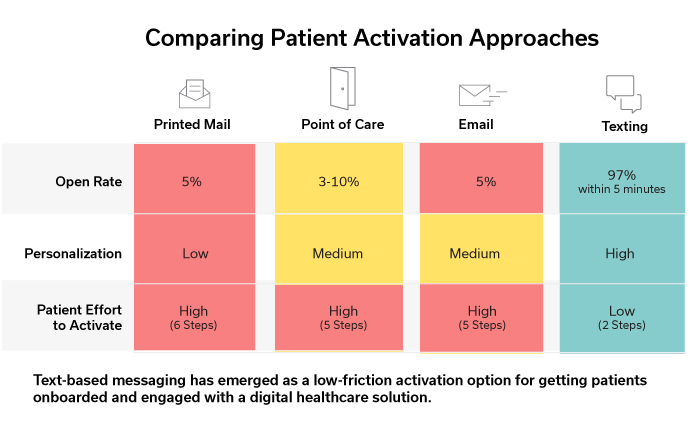 We all have smartphones in our pockets, and the advantages of high open rates, real-time personalization, and frictionless onboarding should make texting and mobile messaging the center of any activation strategy.
Mobile messaging is the most natural, intuitive way for us to interact with everyone in our lives — friends, family, businesses, and yes, healthcare organizations. There's no mobile app to download or learn how to use, there's no username or password to remember and forget, it uses the native functionality built into every smartphone, and it's instantly familiar to anyone who's had a data plan for the last ten years.
If healthcare organizations can make interacting with care as easy as seeing if your friends are free for dinner, the industry will be well on its way to delivering the full promise of digital health.