In 2021, hundreds of millions of COVID-19 vaccinations will be administered in the United States alone. And that number could rise because there's a yet-to-be-determined potential for additional vaccine boosters to follow the initial two-dose regimen. It's not beyond the realm of possibility that more than a billion vaccinations will be required to wipe COVID-19 out of existence over the next 18 months.
This is a massive undertaking that is unlike anything the healthcare industry has ever seen. Attacking this challenge with human teams, paper, and outdated communications approaches will not be enough. Yet on a recent national news program, I heard a healthcare executive say that their appointment reminder strategy would involve phone calls to make sure patients show up for their second dose appointment. Are you kidding me? That is a problem.
Healthcare Innovation Rarely Moves at Warp Speed
Healthcare leaders frequently talk about how they are pushing technology forward and becoming more consumer-centric. And it is true that there is innovation progress across all aspects of the industry, but it's also true that healthcare is a full decade behind most other consumer-centric industries — especially when it comes to engaging patients through personal devices. The masters of urgent care must become the masters of urgent innovation.
The COVID pandemic has forced a level of virtual urgency on healthcare like never before. But old habits die hard. According to EHRN research, telehealth visits comprised 69% of total visits in April 2020, but have since dropped to make up just 21% of total visits. Yet it's still progress when you consider that telehealth was less than 0.01% of all visits before the pandemic.
Now there is a bright light at the end of the COVID tunnel. The vaccines that promise to put an end to all the suffering are on the way. The mere existence of multiple promising new vaccines in such a short amount of time is truly a miracle of science. But now the time has come to begin the process of injecting the vaccines into hundreds of millions of arms, across every demographic and region in the country.
Different thinking created, tested, and produced multiple vaccines in less than a year. The US military has been brought in to leverage its mastery of logistics to handle the vaccine supply chain. How can healthcare providers leverage next-level, digital solutions to automate, scale and speed up the administrative workflows that surround each vaccination for every patient?
Not Designed to Handle Nine-Figure Patient Volumes
The FDA estimates that 462 million vaccine doses will need to be administered in order to achieve the necessary herd immunity to get the virus under control, and that is just the first wave. Add in the urgency to move quickly, yet thoroughly, and you begin to see the enormousness of the task at hand.
If flu shots are any comparison, the entire process will need to change dramatically. Yes, one can go down to their grocery store pharmacy to get a flu shot without an appointment. It has become convenient and easy. But, based on personal experience just last month, the entire process took nearly 30 minutes for check-in, to form completion, to pharmacist prepping the dose, to injection.
If you multiply 30 minutes by 462 million doses, then factor in the instances when things will not go smoothly, and then consider all the people who fail to follow instructions for their second dose, the herd immunity timeline could reach into 2022 — an outcome that is unacceptable.
The industry is preparing to meet the physical demands of massive scale vaccinations. Large pharmacy retailers will rely on their vast networks of brick-and-mortar locations. And health systems are working to set up high-volume, drive-through vaccination centers that will resemble the large COVID testing operations we see at various stadium parking lots. Ten lanes of car-side vaccinations can process a lot of people, no doubt. But what about all the things that must happen before and after the actual injections? There's a massive administrative hurdle that is orders of magnitude greater than anything the healthcare industry has ever faced before.
10 Communication Touches per Person Requires High-scale Digital Engagement
As we move through the top priority groups and get into the phase of vaccinating the masses, the task of communication and engagement becomes the key challenge. Email and phone calls are outdated communication modes. Mobile apps, while feature-rich, come with too many download and password hurdles for most people so they suffer from very low usage rates.
Digital assistants that communicate through smart messaging have emerged as an effective way to interact with patients. Healthcare chatbot engagement rates are in the 80% range and also carry patient satisfaction ratings in the mid 90% range. They work because they're simple and intuitive.
While call centers have long been a core part of patient outreach, they don't have the scale to reach millions. I wrote about this issue before the pandemic hit, because the challenge of reaching a high volume of patients via phone has become very difficult. Today's consumers spend lots of time on their phones, but they're spending the time messaging, not talking.
On the other hand, 93% of us are texting, and 98% of text messages are opened. Messaging is convenient, intuitive, and doesn't require training or downloading.
 AI-powered digital assistants are proving capable of connecting and communicating with patients about their healthcare.
In 2020, several major hospital systems reimagined patient engagement in response to the COVID pandemic and deployed digital assistants to engage patients. Jefferson Health in Philadelphia deployed a new conversational chatbot solution to serve as the "Coronavirus digital front door" for patients seeking information or treatment for COVID-19. And Banner Health innovated with digital chatbots to enable social distance compliant virtual waiting rooms for telehealth and in-person appointments.
Now consider the requirements for getting a person a COVID-19 vaccination. It's likely a ten-step, highly orchestrated engagement process that might unfold like this: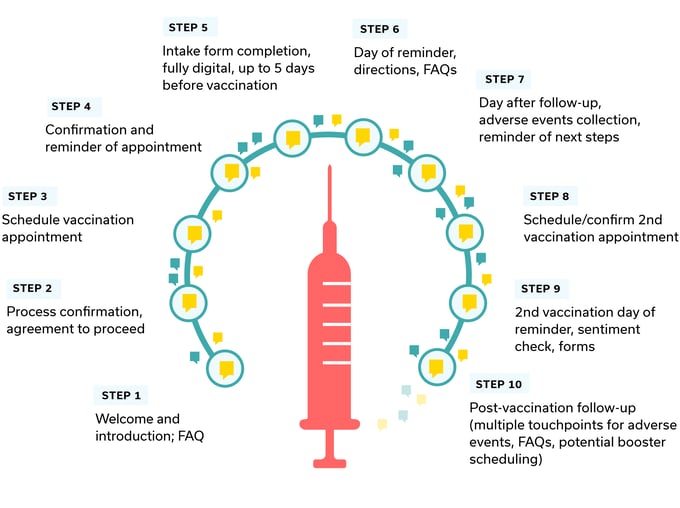 Of course, there are multiple vaccines in the development pipeline and each comes with its own unique array of administration guidelines, education, and protocols. Building a handful of digital assistants versus training thousands of individuals is also a key consideration when it comes to efficiency and cost.
The task of doing this hundreds of millions of times through traditional channels (assuming there were enough qualified human teams to run it) is impossible. Nobody answers their phone from unknown callers. And SPAM filters intercept most email blasts. But smart digital assistants can converse and guide patients through each stage using natural language on any smartphone using standard SMS and browser tools, all in compliance with HIPAA. And importantly, they can do it with unlimited scale.
Conversational AI was brought to the front lines in the early days of the COVID-19 pandemic. Chatbots became a vital part of the front door process at overwhelmed hospitals and handled inquiries from millions of worried patients, providing a volume relief valve for stretched intake teams. And they continue to perform that duty 24/7 to this day.
That same technology is now poised to take on the next phase of the COVID battle, which will likely require billions of personalized interactions and tasks over the course of weeks or months. It's an innovation opportunity that healthcare cannot afford to pass up.