New legislation is making its way through Congress that could drastically change how drug reimbursements are calculated and applied to annual deductibles. Political headwinds may result in changes or delays, but there is a good chance that whatever emerges will require drug manufacturers to get more involved with a different class of customer — the patients that use their products.
New rules like this can bring a level of administrative complexity that lawmakers typically underestimate, and the concept of "copay accumulators" will likely come with a long list of added complexity for an industry that is already saddled with too much process.
The ramifications go beyond more layers of process and paperwork because a lot of the burden shifts from insurer to the manufacturers. Drugmakers will suddenly find themselves communicating directly with patients. That relatively new need will require them to embrace new technologies and engagement approaches.
The bad news is that effective communication and patient engagement is not an easy thing. Healthcare providers have been struggling with it for years. Here's the silver lining: a lot has been learned and technology has matured significantly over the past five years in so many ways. The patient engagement book has been written — at least the first edition.
Here's an overview on what is at stake.
Today: Pharmaceutical Patient Assistance Counts towards Deductible / Max Out-of-Pocket
Many people in the US are on high deductible health plans or pay out-of-pocket for their medications. Unfortunately, high cost inhibits many patients from adhering to their medications as prescribed.
While patients with certain health conditions can turn to generic medications to help manage cost, other health conditions such as hemophilia, Hepatitis B, and rare diseases are not treatable with generic medications. Today, the lion's share of the cost of these expensive medications is born by insurance companies while pharmaceutical companies offer rebates that both defray the listed price and also count towards the patient's deductible and maximum out-of-pocket expenses under their health insurance plan.
Here is how a typical scenario might play out for a rare disease medication with a list price of $240,000. Note that in today's situation the pharmaceutical manufacturers' coupon counts towards the patient's deductible.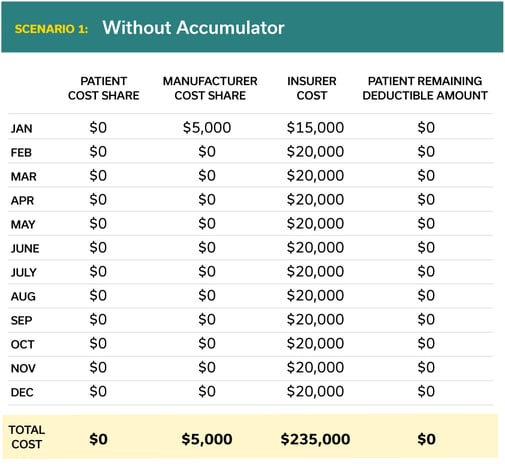 Tomorrow: Copay Accumulators Will Bring a Sea Change in Patient Assistance and Pharmaceutical Patient Engagement
In the 2021 rulemaking cycle, the Department of Health and Human Services (HHS) allowed for commercial payers to implement copay adjustment programs for all drugs, without specifying that the drug must be a brand drug with a generic equivalent. Why does this matter?
This shift allocates more of the cost toward the patient and pharmaceutical manufacturer, and away from the insurance company. Copay accumulators will bring a sea change in patient engagement for pharmaceutical manufacturers.
Below is a typical scenario for a rare disease medication with a list price of $240,000.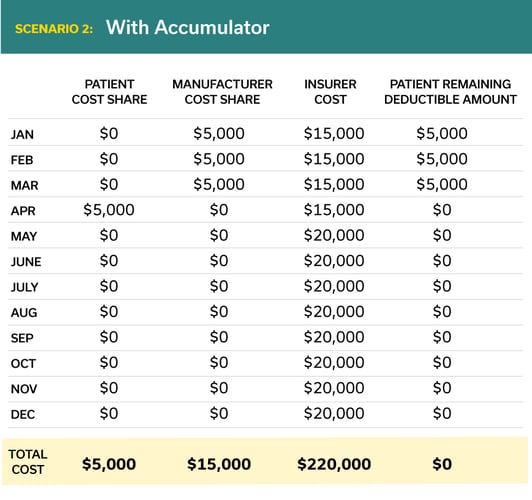 In this example the total cost to the patient has increased dramatically (from $0 to $5,000 per year) and the total cost to the manufacturer has increased 300% (from $5,000 to $15,000).
Starting in 2023, pharmaceutical manufacturers must "ensure" that the total amount of their copay assistance is passed on to the patient. This policy places the burden on manufacturers to determine whether health plans are applying copay accumulators against a patient's drug. There is little clear guidance from CMS around how manufacturers will ensure patients receive the full value of provided copay assistance.
The lack of transparency in this space infers that pharmaceutical manufacturers will have to engage with patients directly. If pharmaceutical manufacturers must contractually improve their patient engagement capacities to meet CMS requirements, how might they effectively do so?
Pharmaceutical Companies Have Limited Patient Engagement Today
Pharmaceutical manufacturers typically rely on two entities for patient engagement: hubs and patient advocacy organizations. Both use engagement channels that have gone relatively unchanged for the last three decades. These traditional engagement channels are no longer good enough. Consumers expect digital experiences, like they get in other business sectors, and are increasingly rejecting correspondence that's not mobile and simple.
Hub organizations typically engage by calling patients directly, leaving voicemails, and navigating patients over the phone to patient assistance organizations to drive increased financial assistance program utilization. Conversations with hub organizations have found this approach typically results in just 8-10% of patients following through to receive or utilize assistance dollars.
Patient advocacy organizations have traditionally been oriented towards disease-specific (i.e., hemophilia) focuses. Patient advocacy organizations gather together patients with the same disease for group counseling, events such as 5k runs, and fundraisers. Patient advocacy organizations have engendered trust among their patient members, but with recent reports of 80% of groups taking donations from the medical industry and 25% of organizations receiving $1 million each year, patient trust is beginning to erode.
How Might Pharmaceutical Manufacturers Get Ahead?
Good patient engagement immediately answers a few questions. What about this engagement is pertinent? Why am I receiving this message now? Is this a clear, succinct message? What are my next actionable steps?
To modify their current approach to account for copay accumulators, pharmaceutical companies must nail the following activities:
Clearly explain copay and assistance programs to the patient

Create relevant, therapeutic-specific content to increase patient comprehension and comfort with their prescriptions

Engage patients as close to the date of prescription as possible to increase the chances of activation and adherence
While healthcare in general is digitizing and adopting consumer preferences, some healthcare segments have been slow to adopt. Smartphone penetration among the US population is over 85%, but expecting patients to download an app for every use case has resulted in poor adoption of patient engagement tools.
To better engage patients, manufacturers must meet patients at the time of prescription in their preferred mobile channels. 80% of patients would prefer a mobile message to a phone call, and supporting every patient with relevant, real-time, and personalized assistance can be a strategic differentiator.
For instance, shortly after a patient has been prescribed a medication, a manufacturer could reach out to the patient through a direct message pointing them towards a coupon. The patient could also request information about various websites that offer different types of coupons from the manufacturer. The manufacturer would subsequently follow up with the patient in a few days to ask if they have used the coupon.
If deployed successfully, pharmaceutical manufacturers can ensure that every patient understands how to receive payment assistance and lower their out-of-pocket spending, ultimately translating to increased adherence and satisfaction.
Manufacturers are beginning to adopt patient engagement technologies. They are the beneficiaries of hospitals and healthcare providers that have been working with patient engagement solutions for years. Modern patient engagement solutions offer robust feedback mechanisms, business intelligence offerings, and valuable insights that scale across the entire manufacturer enterprise.
Copay accumulator rules are not officially set yet, but manufacturers should consider investing in technology that better engages and communicates with patients. The opportunity to engage patients directly could impact the entire manufacturer space ranging from clinical trial recruitment, to supporting commercialized medications, and succinctly conveying patient education.