During the first year of the Covid pandemic, patients missed around 10M potentially life-saving cancer screenings. The CDC encourages health care professionals to minimize delays in testing by continuing routine cancer screening, and helping patients safely access screening through interventions such as navigation (both human and digital). While rates have rebounded somewhat, we are still well below pre-pandemic rates and this has damaging downstream implications.
Some of the factors that contributed to nation-wide screening declines include site closures and the temporary suspension of certain cancer screening services due to Covid. While some of these factors have improved in recent months, there are still many barriers preventing providers from proactively treating and following up with patients who should be receiving routine screenings to get ahead of potentially life-altering cancer diagnoses.
These barriers are primarily access-related and the burden still rests primarily on the provider. There is heavy lifting required to identify tens of thousands of patients, reach them, activate and engage them, schedule, remind and nudge them about the prescribed next steps in their care journey. Left to their own devices, patients often choose the path of least resistance, which means potentially critical clinical interventions end up falling through the cracks.
Emotional factors also keep some patients from getting screened; in the case of lung cancer for example, there can be feelings of shame and denial due to the stigma of smoking. Similarly, with certain behavioral health conditions, patients might hesitate to proactively reach out to a human to seek help.
Negative Downstream Impact on Quality of Care and Cost
According to the healthcare publication The Gist, "The negative effects of care delays have become increasingly obvious: there has been an increase in the number of patients presenting with later-stage cancers. With no reason to believe that either cancer incidence or acuity has actually changed, oncology providers must increase their screening capacity and double down on reaching out to patients who are overdue for screenings."
Once upon a time, statements like "providers must increase capacity" meant that there needed to be significant investments in infrastructure, human teams and technology. Unfortunately, doing this in today's tight labor market is unlikely, if not impossible.
The good news is that providers don't need to rely on dozens of call center staff to proactively reach out to thousands of patients via phone, email or text. A new class of technology has emerged that is capable of engaging patients on mobile devices and helping them navigate their care journeys. It's called Conversational AI.
During the peak of the pandemic, conversational AI literally came to the rescue as urgent care centers were overwhelmed — smart digital assistants took on the high volume, preliminary triage so stretched care teams could ID and prioritize those that needed care most. Conversational digital assistants have become commonplace at a number of healthcare systems. Well-placed, proactive, customized conversations delivered to a patient's mobile device by a personalized, digital assistant can help overcome some of the barriers preventing better engagement.
Fast forward to today and situations like this, where cancer screenings need an injection of engagement, and there's a new opportunity. Technology that provides simple, frictionless, and personalized digital outreach on patient mobile devices exists and is potentially game-changing. Digital-forward health systems are leveraging customized, personalized knowledge of where patients are in their journey, and they're driving activation, adoption, care gap closure, and loyalty.
Meeting Patients Where They Are
••••••••••••••••••••••••••••••••••••••••••••••••••••

Hi Sarah, I see you haven't had a mammogram in over two years.

Imaging centers are practicing Covid-safe care — can I help you get your mammogram scheduled?


Yes

Great. I see you visited WestPath Imaging last time, is this still your preferred provider?


Yes
••••••••••••••••••••••••••••••••••••••••••••••••••••
Digital engagement via AI-driven modalities has recently matured to a point where mass conversational horsepower for healthcare that everyone dreams about is possible. Phones and tablets are now the preferred technology medium, and are increasingly common across all demographic segments. More than 85% of US adults now own a smartphone.
A growing number of health systems are unlocking this superpower by leveraging patients' devices to close care gaps and forge long-term relationships. And it's not by creating additional mobile apps.
This notion of conversational engagement, in this case via highly customized and configured chatbots, allows communication through simple, language-based messaging. When connected to an EHR, this becomes an extender that drives double-digit increases in patient activation, engagement, and follow through.
Patients begin to trust the digital assistant and are more likely to follow care plans more closely. This puts both the patient and the health system on a new, future-facing playing field; better engagement, better loyalty, better health.
••••••••••••••••••••••••••••••••••••••••••••••••••••

Hi Sarah, thanks for visiting WestPath Imaging last week. We are pleased to report that the results of your mammogram are normal. Can you confirm that you've read this message?

I confirm

Thanks! Would you like to schedule your mammogram for next year, same time? We'll send you a reminder in advance and you can always change the date as it gets closer.


Yes

Great, your appointment next year is set for June 20 at 9:00AM. In the interim, here's some educational information to help keep you healthy in between appointments.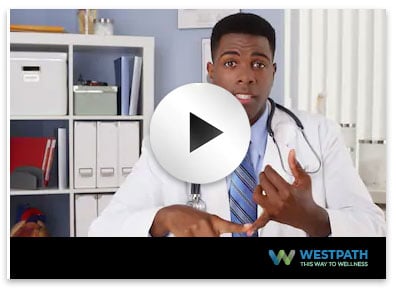 ••••••••••••••••••••••••••••••••••••••••••••••••••••
Use cases reach far beyond cancer screenings, yet screenings represent an excellent starting point. The time is now to accelerate the adoption of proactive, frictionless glide paths for patients. Other industries have been doing this for a while now; let's get healthcare there, too.